Benefits of booking online appointments. https://reachmydoctor.in/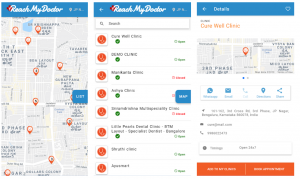 We book flights, hotels and restaurants online and with our recent 1000+ bookings per month it's clear that online health appointments are on the rise. So for those of you that still pick up the phone to make your health appointment you're missing out on the chance to make your health experience even better.
If you're not convinced that booking online is the way to go we've put together a few reasons why you should make the switch.
So, why do we think you'll love booking health appointments online?
It's fast and easy
One click and you can see all the available appointments in your local area. That's more choice to find a time and place that's right for you.
No more hold music
A practice is a busy place and chances are you'll be put on hold when making an appointment on the phone. Booking online means no more daggy on hold music but more importantly it means you will be saving time.
No need to wait until the practice is open
Have you woken at 11pm feeling awful knowing you need to go the doctors? Well you can jump online in your pj's and book an appointment the next day. No need to wait until the practice opens.
You're not rushed to make a decision on the spot
No need to juggle your calendar with the receptionist on the other line. You have time to think and select from a range of appointments and decide which best suits you.
You can book on the go
The Reach My Doctor app allows you to book from your smartphone/IPAD. In bed, on the train, at your desk at work. Where ever you are you can book instantly.
A better healthcare experience
Booking online means the reception staff have more time for you when you arrive at the practice. They're not trying to juggle phone bookings with patients that are currently at the practice. This makes the visit to the doctors a better experience for you and actually helps the reception team as well.
Reach My Doctor is India's easiest online booking system with more and more patients visiting our site every month to find health practitioners. We don't just have bookings on the site, we also provide a range of information to help you make a decision about which doctor to see.
Read. more on customer experience https://reachmydoctor.in/blog/what-is-patient-experience-and-why-does-it-matter/
So if you need an appointment, book with www.reachmydoctor.in today or download our app from www.fma.care/apps/rmd