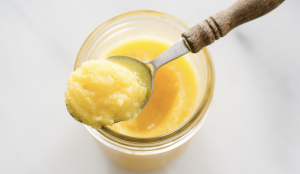 Health Benefits of Ghee 
Increases Digestion. Possibly the most well-known health property of ghee is the fact that it is an amazing agent for enhancing the digestive power. Ghee stimulates the secretion of stomach acids and in turn increases our ability to break down food. Ghee also removes toxins and promotes elimination, both of which will help to increase one's overall digestive capacity.
Enhances the absorption of nutrients. Ghee not only helps to break down food matter, but also increases the ability of the intestinal wall to absorb vital nutrients. Since most individuals have a deficiency of these fundamental nutrients, this essentially improves one's health and wellness.
Enhances the healing properties of herbs. In Ayurvedic medicine, ghee goes way beyond a dietary ingredient. Ghee is a well know catalystic agent (anupana), which has the ability to drive the healing properties of the herbs down into the deep tissues. This in turn will enhance their effectiveness and healing potency.
Increases vital Ojas in the body. Ojas is the subtle energetic force that is responsible for one's energy, vitality and immunity. A person with healthy Ojas is soft, gentle, compassionate and patient. Ojas is also responsible for a healthy luster of the skin as well as a strong, healthy libido. Ghee will enhance all of these qualities when taken consistently in proper proportions.
Heals the intestinal wall. Ghee is one of the highest sources of butyrate acid, a short-chain fatty acid. This healthy fatty acid is vital in the health of the intestinal wall, as it nourishes, heals and reduces inflammation of the gut wall making it ideal for disorders such as "leaky gut syndrome", IBS, Crohn's disease and ulcerative colitis. Butyrate acid is balancing to the gut flora and is beneficial for reducing Candida overgrowth and other unwanted pathogens.
Reduces the risk of colon cancer. Butyrate acid has been proven to be preventative to colon cancer, as it increases the healthy bacteria in the colon, removes the unhealthy one and is responsible for the growth and regulation of colon cells. Ghee in general aids in healthy elimination as well. These are all components for optimal colon health.
Lubricates the body, externally and internally. Ghee is a well-known treatment in Ayurveda for relieving dryness in the body, as it is oily and moisturizing by nature. Whether taken internally or applied externally, ghee has the ability to nourish and lubricate the tissues on a cellular level. This reduces dry skin, dry colon (constipation), inflammation and stiff joints while increasing luster, flexibility and promoting healthy elimination.
Promotes the elimination of toxins stored in the body. Ghee is traditionally used to remove deep-rooted physical and mental toxins during an Ayurvedic cleansing. It is a vital step in the preparatory phase (purva karma) of the cleanse, as well as during the cleanse itself. By taking ghee in large doses prior to the cleanse, it "loosens" the deep-rooted toxins from the tissues which allows them to be eliminated through purgation, etc. Without this, the removal of toxins will only be on a superficial level.
Essential for rejuvenation therapy. Although ghee is used to aid in cleansing, it is just as vital for the rebuilding and regeneration of the tissues as well. In times of depletion, weakness and debility , ghee is an amazing medicine for increasing energy, strength, immunity, vitality and stamina. Ghee can be mixed with rejuvenating herbs, mixed with honey or simply added to each meal.
Nourishes the brain and nervous system. Ghee is known as a "medhya" substance as it increases mental reception, intellect and memory. It is beneficial for mental and emotional imbalances, as well as a depleted, sensitive nervous system. Since fat is needed in order to break the blood/brain barrier, taking brain nourishing herbs along with the ghee will only enhance these mentally boosting benefits.
Powerful anti-inflammatory properties. Ghee possesses powerful anti-inflammatory agents making this a necessary medicine for allergies, arthritis and autoimmune conditions. Chronic inflammation can cause premature aging, pain, swelling, burning, stagnation and irritation. When left untreated, inflammation soon leads to destructive disorders such as cardiovascular disease, cancer, diabetes and autoimmune conditions.
The above mentioned qualities of Ghee prove why it should be a part of the meal of every person irrespective of the age group he/she belongs.