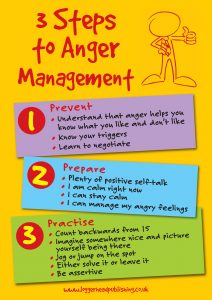 Anger is a normal, healthy emotion. But it's unhealthy when it flares up all the time or spirals out of control. Chronic, explosive anger has serious consequences for your relationships, your health, and your state of mind. The good news is that getting anger under control is easier than you think. With insight about the real reasons for your anger and these anger management tools, you can learn to keep your temper from hijacking your life.
You might think that venting your anger is healthy, that the people around you are too sensitive, that your anger is justified, or that you need to show your fury to get respect. But the truth is that anger is much more likely to damage your relationships, impair your judgment, get in the way of success, and have a negative impact on the way people see you. That's where anger management comes in.
Five tips for dealing with a loved one's anger management problem
While you can't control another person's anger, you can control how you respond to it:
Set clear boundaries about what you will and will not tolerate.

Wait for a time when you are both calm to talk to your loved one about the anger problem. Don't bring it up when either of you is already angry.

Remove yourself from the situation if your loved one does not calm down.

Consider counseling or therapy if you are having a hard time standing up for yourself.

Put your safety first. If you feel unsafe or threatened in any way, get away from your loved one.
I