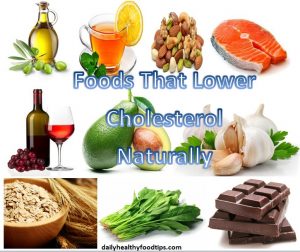 1. Beans: The High Fiber Solution
Except for your morning wheat bran, no food is more fiber-rich than beans. And beans are especially high in cholesterol-lowering soluble fiber. Eating a cup of any type of beans a day—particularly kidney, navy, pinto, black, chickpea, or butter beans—can lower cholesterol by as much as 10% in 6 weeks.
Soluble fiber forms a gel in water that helps bind acids and cholesterol in the intestinal tract, preventing their re-absorption into the body. This may be why soluble fiber helps to lower cholesterol levels (and decreases the risk of heart disease). Soluble fiber is also found in oats and oat bran, barley, brown rice, beans, apples, carrots, and most other fruits and vegetables.

Eat beans five or more times a week. For the greatest health benefits, both the FDA and the National Cancer Institute recommend that adults get 25 to 30 g of fiber each day.
2. Salmon: Amazing Heart-Friendly Fat
Research has shown certain types of fat actually protect against high cholesterol. Omega-3 fatty acids—found in salmon and other cold-water fish—help lower "bad" LDL cholesterol, raise "good" HDL cholesterol, and lower triglycerides.
Salmon is an excellent source of protein because it is high in omega-3 fatty acids called EPA and DHA that are good for your heart while low in cholesterol and saturated fat.

The American Heart Association now recommends eating at least two servings of fish every week, preferably fatty fish, by far the richest sources of fish-oil omega-3s.
3. Avocado: Healthy Fat Superfood
Avocados are a great source of heart-healthy monounsaturated fat?a type of fat that may actually help to raise levels of HDL ("good"cholesterol) while lowering levels of LDL ("bad" cholesterol). And these delectable green orbs pack more of the cholesterol-smashing beta-sitosterol (a beneficial plant-based fat) than any other fruit. Beta-sitosterol reduces the amount of cholesterol absorbed from food. So the combination of beta-sitosterol and monounsaturated fat makes the avocado an excellent cholesterol buster.
4. Garlic: The Ancient Herb for Heart Health
For thousands of years, garlic has been used in nearly every culture in the world, and not just to repel evil. Its nutritional value and flavor have made it a kitchen staple. Ancient Egyptians ate garlic for stamina; in modern times, garlic has been found to lower cholesterol, prevent blood clots,reduce blood pressure, and protect against infections. Now research has found that it helps stop artery-clogging plaque at its earliest stage (called nanoplaque). How? Garlic keeps individual cholesterol particles from sticking to artery walls.
To reap benefits, try for 2 to 4 fresh cloves a day.
5. Spinach: The Heart Healthy Green Giant
Spinach contains lots of lutein, the sunshine-yellow pigment found in dark green leafy vegetables and egg yolks. Lutein already has a "golden" reputation for guarding against age-related macular degeneration, a leading cause of blindness. Now research suggests that just a ½ cup of a lutein-rich food daily also guards against heart attacks by helping artery walls "shrug off" cholesterol invaders that cause clogging.
Spinach is the richest source of lutein. Shoot for a ½ cup a day.
6. Margarine: Best Spreads for Your Breads
Two margarines are proven to help lower your cholesterol numbers: Take Control and Benecol. They do so by blocking the absorption of the cholesterol contained in your food and bile.
Take Control margarine is made with plant sterols that are proven to lower both total and LDL cholesterol by up to 14%. The plant stanols in Benecol margarine work the same way. Both the National Cholesterol Education Program and the American Heart Association recommend these margarines.
In studies, three servings a day of Benecol helped drop total blood cholesterol by an average of 10% and LDL cholesterol by 14%. Take Control helped drop total cholesterol an average of 6 to 8% and LDL by 7 to 10% with one to two servings a day. Check labels for serving size.
7. Tea: The Hot and Cool Super drink
Tea, whether it's iced or hot, delivers a blast of antioxidant compounds. Studies prove that tea helps to keep blood vessels relaxed and prevent blood clots. Flavonoids, the major antioxidants in tea, have been shown to prevent the oxidation of LDL cholesterol that leads to plaque formation on artery walls. These powerful antioxidants may even reduce cholesterol and even lower blood pressure.
A cup of hot tea actually contains more antioxidants than a serving of any fruit or vegetable. Both green and black teas have high antioxidant levels. Enjoy at least one cup of tea every day.
8. Walnuts, Cashews, and Almonds: Go (Mixed) Nuts!
A moderate-fat diet that's rich in the healthy monounsaturated fats found in nuts may actually be twice as good for your heart as a low-fat diet. Nuts also have vitamin E, magnesium, copper, and phytochemicals that have been linked to heart health. And walnuts are also rich in omega-3s. People who eat nuts regularly have less heart disease and other illnesses than people who don't. The heart-healthy monounsaturated fats they contain are also better for your joints than the polyunsaturated fats found in corn and safflower oils.
Aim for 2 tablespoons of chopped nuts five times a week, or a small handful as a snack 3-4 times a week.
9. Chocolate: The Sweet Heart Bonus
Want to help your heart the next time you indulge in chocolate candy? Choose the dark or bittersweet kind. Compared to milk chocolate, it has more than three times as many antioxidants. These flavonoid antioxidants work to keep blood platelets from sticking together and may even help keep your arteries unclogged. Milk chocolate is good too, having as much antioxidant power as red wine. And what about white chocolate? Sorry, it has no flavonoids at all.
Research shows that about an ounce of chocolate a day increases good cholesterol and prevents bad cholesterol from oxidizing.